For a special one-night-only performance, Jovanni Sy and Derek Chan will perform excerpts and discuss 食盡天下 (A Taste of Empire) in its Cantonese and English forms.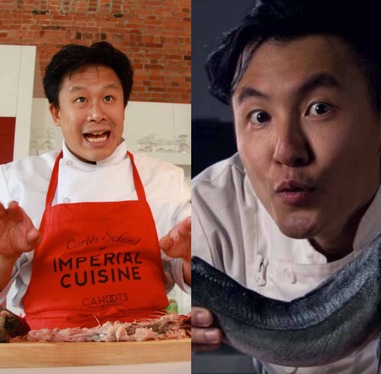 DBLSPK:食盡天下 (A Taste of Empire)
by Jovanni Sy, Translated by Derek Chan
July 13, 2018 8pm
@theFishbowl
(1398 Cartwright Street, Granville Island)
Boca del Lupo and rice & beans theatre proudly presents DBLSPK: 食盡天下 (A Taste of Empire).  DBLSPK is a quarterly reading series where we present and discuss works in translation. We talk about what changes linguistically, culturally, and performatively.
We are what we eat. But where does it come from? How does it get here?食盡天下 (A Taste of Empire) is a wacky and fun culinary exploration of global food domination and the conquest for our appetites.
The English version of 食盡天下 (A Taste of Empire) premiered in 2015 at Cahoots Theatre and later presented by Boca del Lupo's Micro Performance Series. The Cantonese version, produced by rice & beans theatre, after its premiere at the Gateway Theatre, toured to Cahoots Theatre and was subsequently nominated for a Dora award.  It was developed with the assistance of Playwrights Theatre Centre, Playwright's Workshop Montreal Glassco Translation Residency in Tadoussac and Boca del Lupo.
DBLSPK Series is generously supported by CMHC Granville Island, Canada Council for the Arts, Canadian Heritage, BC Arts Council, and the City of Vancouver.