Posted
SLaM 2023 Announcement!
SLaM is supported in part by the RBC Foundation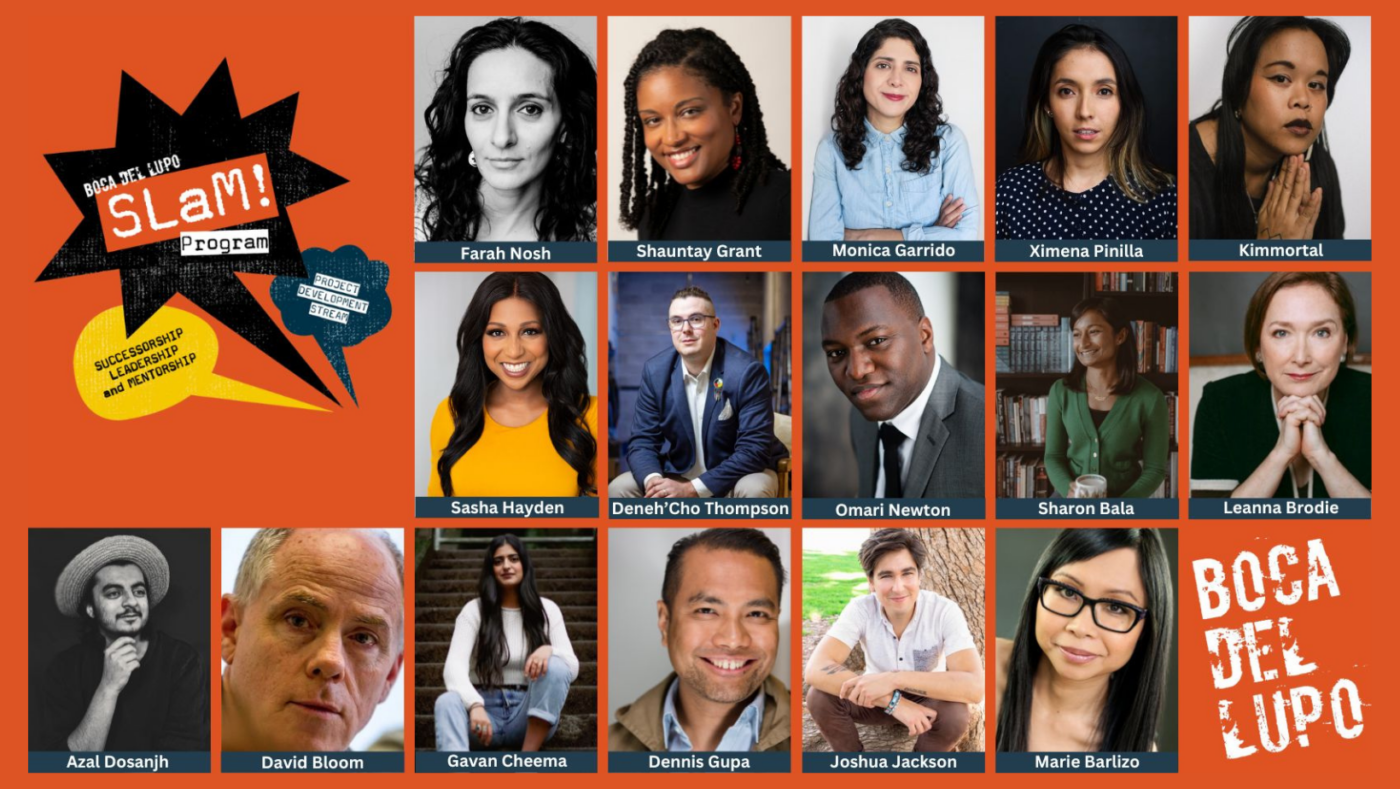 We are so excited to share the recipients of this year's SLaM Program. Drawing from across the country, SLaM is supporting the following individuals in their professional and project development.
Farah Nosh working on an interview project about her grandmother.
Farah Nosh is an award-winning photographer who has worked in Iraq, Afghanistan, Lebanon, Pakistan, Syria, the West Bank, Gaza, and Egypt. Her work has appeared in leading international publications including The New York Times, TIME, and Newsweek. Nosh appeared on CNN's Inside the Middle East segment entitled "Someone You Should Know," which features personalities making an impact in the region. Her Iraq work has been exhibited in the New York, Chicago, Los Angeles, London, and Dubai.
Shauntay Grant with the early development of a theatre project based in the unfiltered art of Slam poetry.
Shauntay Grant is an author, poet, playwright, and multimedia artist who lives and works in Kjipuktuk (Halifax, Nova Scotia). A multidisciplinary artist with professional degrees in creative writing, music, and journalism, she "creates artworks that are engaging and accessible, but also challenging, rigorous, and informed by deep research" (The Royal Society of Canada). She is the author of The Bridge, published by Playwrights Canada Press and winner of a Robert Merrit Award for Outstanding New Play by a Nova Scotian, and the editor of the forthcoming anthology From The Ashes: Six Solo Plays. Her work has been commissioned by Boca Del Lupo (Red Phone Project), Obsidian Theatre (21 Black Futures), Eastern Front Theatre (Micro Digitals Creation Project), Against the Grain Theatre (Identity: A Song Cycle), and others. Shauntay is the author of several books for children including Sandy Toes: A Summer Adventure (Abrams Appleseed, 2023) My Fade Is Fresh (Penguin Random House, 2022) and Africville which won the Marilyn Baillie Picture Book Award and was shortlisted for the Governor General's Literary Awards. Her honours include a Joseph S. Stauffer Prize in Writing and Publishing from the Canada Council for the Arts, and a Poet of Honour prize from the Canadian Festival of Spoken Word. She is a former poet laureate for the City of Halifax, and she teaches creative writing at Dalhousie University.
Monica Garrido and Ximena Pinilla in attending the COYUNTURA conference. Presented by CALTAC, and the only conference of its kind in Canada, COYUNTURA was two days of workshops, assemblies, pitch sessions, dance breaks, and chisme, all centering Latinx voices and experiences. It is an opportunity for Latinx theatre people and non-Latinx allies to come together for networking, discussion, and discovery.
Monica Garrido (she/her) is a Mexican born and recently Canadian Queer Artist, Filmmaker, Writer, Producer, Comedian, Performer and Storyteller. Her short films "Diferente" and the horror-comedy "Love You to Death" premiered at the Inside Out LGBT Film Festival. Her first solo show "The Cunning Linguist", was created at Emerging Creator Unit at Buddies In Bad Times Theatre and won the 2016 Queer Acts Audience Award. It was adapted as an Audio Show for Aluna Theatre's Studio Series. Monica has appeared in commercials, music videos and TV in shows such as Baroness Von Sketch Show. She's part of the ensemble of the Canadian Comedy Award winning show Sketch Comedy Extravaganza Eleganza. Monica is the 2018 recipient of the Queer Emerging Artist Award at Buddies in Bad Times Theatre. Her stage work includes: "Private Eyes" (lemonTree Creations), "Bypass" (Writer-Caminos Festival),"Youth/Elder project" (Buddies in Bad Times), The Second City's Guide to Surviving the Holidays (Second City Toronto) "Dyke City" (Buddies in Bad Times).
She is one third of the Latinx Drag King boyband "Boyband the Boyband". She is also a Taurus and wishes you the best.

Ximena [he-men-uh] is a multidisciplinary artist based in Calgary. Born in Bogotá, in the mountains of Colombia.
She began her career as an industrial designer, but the curiosity and search for new artistic expressions and her passion for visual and performing arts, brought her into the world of scenography.
A graduate of the National Theatre School of Canada's Set and Costume design program.
She has been both, a designer and a builder, and has designed props, sets and costumes for theatre, dance and circus companies in Quebec and in Alberta.
Head of Props at the Alberta Ballet for the 22-23 season. Her recent design credits include: Jusqu'au prochain moi (props / École Nationale de Cirque) L'amour the reviendra (costumes/ Maison International des arts de la marionette) and several costume design collaborations for the Ecole de Danse contemporaine de Montréal.
Kimmortal and Sasha Hayden in attending the Arrivals Legacy Project Voice Workshop, in association with lbs/sq" and UBC Department of Theatre and Film. Arrivals Legacy Voice was founded by Artistic Director Diane Roberts with the goal of to cultivate a world where artists revel in the borderless potential of their cultural inheritances.
Kimmortal aka Kim (they/them) is a multi hyphenate artist and musician. They are a 2nd generation settler who grew up in Surrey and is currently living on the unceded traditional territories of the Musqueam, Squamish, and Tsleil-Waututh Nations. Their ancestry is from Pangasinan and Negros Occidental, Philippines. Combining their passion for hip hop, visual art, theatre, spoken word, ancestral wisdom, and liberation, Kimmortal strives to build worlds that make queer and diasporic weird kids feel like they belong.
Known for their powerful stage presence and multi-dimensional approach to music, Kimmortal has opened for some of their favourite artists including Thundercat, Saul Williams, Shad K, Ruby Ibarra, Saba, and Gabriel Teodros. They have performed in SXSW, Junofest, Rifflandia, NXNE, Winnipeg Pride Festival, Taking Black Pride (Seattle), and Reeperbahn (Germany).
Kimmortal's background in visual art (BA in Visual Art & Art History) as well as theatre (Urban Ink Theatre, Frank Theatre Co.) influence the way they present their work. Their concept album "X marks the Swirl" (2019) delves into queer diasporic longing and solidarity on stolen land through the shape of the swirl. The album incorporates cosmic soundscapes, soul activating lyrics, and poetic interludes produced by Kimmortal alongside David Tallarico and featuring local Vancouver emcees such as Missy D, JB the First Lady and Ostwelve. The album was announced by Buffy St. Marie as a long-listed nominee for the Polaris in 2019. Later that year it was recognized as top 19 albums of 2019 via CBC and nominated in the 2020 "Hip Hop and Rap" category of Breakout West Music Awards.
In March of 2022, Kimmortal's anthem "Sad Femme Club" received a shout-out from US Congresswoman Alexandra Ocasio-Cortez which motivated Kimmortal to release the first single "K I'm Mortal" off their upcoming 2023 album. Their most recent release is a self-produced track "This Dyke" which aired on "The L Word: Gen Q". This past year Kimmortal was awarded "Outstanding actor" via Toronto's Asian Reel film festival in the short film "Knots" by Stephanie Sy. Their recent project was creating an original score for contemporary dance production "Piña" by Ralph Escamillan. Currently, Kimmortal is completing their 3rd full length album and creating a theatrical rendition of their music via a residency with Vancouver Asian Canadian Theatre.

Sasha Hayden is of Jamaican & Canadian descent. She's an actress who is committed and passionate about her craft.
She believes that you must " follow what lights you up" and that representation on screen matters.
Over the years, she has had success on the screen and stage; she can be seen and heard through her voiceover and commercial work.
She has had appearances on networks such as Netflix, Lifetime, Hallmark and more. Recent credits include Love Guaranteed, FireFly Lane, Wendy Williams, and more. See IMDB.
Sasha is based in Vancouver, Canada.
Deneh'Cho Thompson in the exploration of examples and motivations behind Identity fraud to develop a better understanding of the people that perpetrate it. Research into various public and theatre community identity fraud cases will then be translated into fictional personal letters to and from the fraudsters and their personal relations.
Deneh'Cho Thompson (he/they) is a director, actor and playwright and displaced and dispossessed member of the Pehdzeh ki Nation. His artistic practice focuses on new play development, acting credits include the world premieres of Fruitcake by Heather Morrison with production dramaturgy by Lenore Claire Harrem, Iron Peggy, by Marie Clements, REDPATCH, by Sean Oliver Harris and Raes Calvert, and Thanks for Giving, by Kevin Loring. This summer Deneh'Cho directed Drew Hayden Taylor's Cottagers and Indians at the Blyth Festival.
As Assistant Professor at the University of Saskatchewan Deneh'Cho oversees the wîcêhtowin Theatre Program, one of few Indigenous theatre programs at a Canadian university. Deneh'Cho's research focuses on the development, naming, and centring of Indigenous pedagogies, new play development, and modes of collaboration while centering the values of reciprocity, respect and reflexivity. Deneh'Cho is also engaged in the (re)storying of personal family archives focusing on healing, resilience, and Indigenous storywork as a pathway towards the creation of new works of theatre.
Omari Newton in writing a new piece that explores truth and clout in our modern day. Focusing on a controversial influencer, "Infinity", and a podcast "Talk Talk Talk" that platforms a battle of ideologies. Constatly on the verge of cancellation, it is unclear whether "Infinity" is driven by a thirst for "The Truth" or an incessant desire for clout/relevance.
Omari Newton is an award-winning professional actor, writer, director and producer. As a writer, his original Hip Hop Theater piece Sal Capone has received critical acclaim and multiple productions, including a run at Canada's National Arts Center. Omari and his wife, fellow professional playwright Amy Lee Lavoie, received a silver commissions from The Arts Club Theatre to co-write a new play: Redbone Coonhound. A bold and innovative satirical comedy that confronts instances of systemic racism in the past, present and future. Omari co-directed the first in a series of rolling world premieres at The Arts Club Theatre in October of 2022, then followed by Tarragon Theatre in Toronto, and the a run at Imago Theatre in Montreal. The husband and wife duo have also just completed "Black Fly," a satirical adaptation of Shakespeare's Titus Andronicus that centers on Aaron and Lavinia. Newton's work in Speakeasy Theatre's production of Young Jean Lee's The Shipment earned him a 2017-2018 Jessie Richardson Award for Outstanding Performance by an Actor, as well as a nomination for Best Direction. He has recently completed directing critically acclaimed productions of "The Mountaintop" by Katori Hall, and "Pass Over" by Antoinette Nwandu. Notable film & TV credits include: Lucas Ingram on Showcase's Continuum, Larry Summers on Blue Mountain State and lending his voice to the Black Panther in multiple animated projects (Marvel). Most recently, Omari has a recurring role as Nate on Corner Gas (the animated series) and a recurring role as Corvus of Netflix's hit new animated series The Dragon Prince.
Sharon Bala in developing her first play, in association with the Resource Centre for the Arts. Uncertainty Principle is a full-length play about a family, with possible speculative elements and a non-linear timeline. In the blink of an eye, a woman leaps forward two years, unable to recognize the life she lives. Told she has amnesia, she realizes she needs to fight for the life she once had.
Sharon Bala's bestselling debut novel, The Boat People, won the 2019 Harper Lee Prize for Legal Fiction. It was a finalist for Canada Reads 2018, the 2018 Amazon Canada First Novel Award, the Margaret and John Savage First Book Award, the Thomas Raddall Atlantic Fiction Award, and was longlisted for the International Dublin Literary Award and the Aspen Words Literary Prize. The Boat People is on sale worldwide with translations on the shelves or forthcoming in French, German, Arabic, and Turkish. In 2017 Sharon won the Writers' Trust/ McClelland & Stewart Journey Prize for her short story "Butter Tea at Starbucks" and had a second story on the long-list. She is a member of The Port Authority, a St. John's writing group. Visit her online at sharonbala.com.
Leanna Brodie in a personal project centred on adoption and motherhood. A young adoptee's exploration of her multiple origins reveals a lot more than she bargained for. Looping through time from the forgotten legacy of the foundling wheels to the complexities of modern adoption, Biological uses the basic structure of the adoption triad to challenge our notions of motherhood, womanhood, blood and belonging, the stories we tell ourselves about ourselves, and the true nature of the ties that bind.
Leanna Brodie is a playwright and performer whose plays include The Vic, For Home and Country, Schoolhouse, and The Book of Esther. Ulla's Odyssey, Brodie's Flourish Prize–winning opera with New Zealand composer Anthony Young, toured the UK for two years with OperaUpClose. Vancouver audiences may have seen her in in Terminus (Pi Theatre), And Bella Sang to Us (Firehall Arts Centre) or Bonjour, là, bonjour (Théâtre la Seizième).
Brodie is also a leading translator of contemporary Québécois/Franco-Canadian playwrights. Recent premieres include Wildfire (Factory Theatre, Toronto: Dora Mavor Moore Awards for Best New Play, Director, and Production); Joe Jack et John's Violette (PuSh Festival); Rébecca Déraspe's I Am William (Stratford Festival); and Fanny Britt's Benevolence (Ruby Slippers/Pacific Theatre). Ruby Slippers' production of her translation of Christian Bégin's Après moi was nominated for 5 Jessie Awards.
Currently, Brodie is Assistant Professor (Playwriting) at the UBC School of Creative Writing. Upcoming: Wildfire (CBC's PlayME podcast); and Anaïs Pellin's Clementine (Carousel Theatre, Vancouver). With co-writer Jovanni Sy, she is working on Salesman in China, a commission from the Stratford Festival.
www.leannabrodie.com
Azal Dosanjh in the adaptation of Assi Uhn datta Hune Haan by Balwinder Bullet. The play is about resistance in the face of overwhelming institutional pressure, in the name of justice. The process will involve simultaneous transcription and translation by Azal.
Azal Dosanjh is a theatre artist from India, now residing in St. John's, Newfoundland. Their recent directing credits include NewfoundLanded (TODOS and White Rooster Productions), Oddities (Güd Productions), Sun in an Empty Room (GroupHug Productions), Lights Out (Theatre Perimetric). They will be premiering the production of their first play, the adaptation piece Tamasha, O Tamasha this June in St. John's, Newfoundland. They will be an Assistant Director on Come From Away this summer, Directed by Jillian Keiley.
David Bloom in creating two linked, site-specific, audience-interactive pieces: one live-online, multi-media, the second outdoors, low-tech, in a tent. The linked plays are about two radically different responses to the climate crisis drawn from wealth and priviledge; Emergency Mushroom Report and Learning Fear in Omphalotus.
David Bloom is a playwright, director, dramaturg, and actor. Directing work for his company Felix Culpa includes co-direction of Palace of the End for Touchstone Theatre/Felix Culpa/Horseshoes & Hand Grenades (Jessie Richardson award, Outstanding Direction, Small Theatre), the North American premiere of Howard Barker's Und, The Monument (Jessie Richardson Award nomination, Outstanding Direction, Large Theatre). He has directed shows all over Canada and in London, England.
He has run the Solo Show program at Studio 58 since 2001, overseeing the creation of more than 300 one-person shows. His plays have also been performed by Green Thumb, Studio 58, Felix Culpa, Carousel, Axis Theatre, Canadian Phoenix and the University of British Columbia.
He has directed new music performances including Rodney Sharman's Wounded and The Garden, Hildegard Westercamp's Klavierclang, and Frederic Rzewski's De Profundis, as well as writing and performing in Boulez contra Cage. He has been a writer and dramaturg on dance pieces including Chick Snipper's Drushka's Rein, co-creator/performer in Anne Cooper's Bull in a China Shop, and Deborah Dunn's The Love Song of J. Alfred Prufrock. He performed in workshops on the original operas Lillian Alling and Naomi's Road.
Performance credits include Seventeen(Western Gold Theatre), The Designated Mourner for Felix Culpa, and the premiere of Governor-General's Award-winning play Unity 1918 for Touchstone Theatre as well as multiple film & TV roles. Acting and fight choreography have taken him across the country, including work at The Theatre Festival of the Americas, The Shaw Festival, Manitoba Theatre Centre, The Citadel, and almost every company in British Columbia.
Gavan Cheema in studying for a month at the arthaus.berlin. Arthaus.berlin is an international training and research centre for theatre and performance makers from around the world interested in deepening their journey as creators of their own work. This opportunity will provide space and resources to get deeper into interrogating practice, which will then transfer into Gavan's work to empower her community and make space for impactful conversations.
Gavan Cheema is a director, writer, dramaturg, and co-Artistic Director of Theatre Conspiracy. She is based out of Vancouver: the traditional, unceded, and occupied territories of the Coast Salish peoples of the xʷməθkwəy̓əm (Musqueam), Skwxwú7mesh (Squamish), and Səl̓ílwətaɬ (Tsleil-Waututh) Nations. She is a first generation Canadian, with roots coming from the five rivers of Punjab. She is a recent recipient of the Sam Payne Award for Most Promising Emerging Artist at the Jessie Richardson Awards.
Gavan's play Himmat premiered in Vancouver at The Cultch in May 2022 and will be presented at the Surrey Civic Theatres in Spring 2024. She holds a double major from the University of British Columbia in Theatre and History, as well as a high school teaching certification. She has created work and directed for various local, national and international stages and has experience in youth engagement, theatre education and workshop facilitation.
Select directing credits: Catfish (Alley Theatre), Conspiracy Now (Theatre Conspiracy), Danceboy (Tremors Festival/ Vancouver Art Gallery Fuse), Burqa Boutique (Revolver Festival), Marie's Letters (Shift Festival), da' kink in my hair and You Used to Call Me Marie (Envision Festival), The [Organization] (Unladylike co.), Disgraced (UBC Players Club). Assistant direction: Clean/Espejos (Neworld), Foreign Radical (UK tour), The Orchard [after Chekhov] (Arts Club), Victim Impact (Theatre Conspiracy), Men in White (Arts Club) and Bombay Black (Vancouver Fringe Festival). Dramaturgy credits: Same Difference by David Mesiha, Isolation Suite by Tim Carlson, Danceboy by Munish Sharma. Upcoming directing: The Dynamics (Oct 2024, Theatre Conspiracy), SWIM (Feb 2025, Theatre Conspiracy & Pandemic Theatre).
Dennis Gupa in a multimedia/multilingual performance project proposes a deconstruction of Jean Genet's The Maids to re-write this migratory history by engaging multiple and plural references emerging from the post-human, oral narratives, and other non-Western historiography in collaboration with Filipino-Canadian drag performers, queer playwright, musician/tattoo artist, and the Filipino community members in Vancouver.
Dennis D. Gupa is a theatre director, performance maker, and Assistant Professor at the University of Winnipeg's Department of Theatre and Film. He has an MA in Theatre Arts degree (University of the Philippines), MFA in Theatre (University of British Columbia), and PhD in Applied Theatre (University of Victoria). As a former Vanier scholar, Dennis wrote his dissertation on sea rituals, climate change, and Indigenous ecological knowledge in island communities in the Philippines impacted by climate crises. Dennis is one of the Asia Society's Philippines 21 Fellows for the Arts and Culture. His works is included in The Cultural Centre of the Philippines' Encyclopedia of Philippine Arts (Theatre Volume) for his contribution to the theatrical heritage of the Philippines.
Joshua Jackson in the collection and creation of an anthology focusing on Hoop Dance as the primary technique. Driving the vision is the impulse to explore the evolutionary nature of indigenous form. This will be achieved through a series of stories inspired by contemporary artists, collaborating in mastery that pays homage to the tradition from which the craft stems.
Joshua Jackson is a First Nations producer, director, manager, writer and musician. His background includes acclaimed work with indigenous emerging artists. He has also collaborated nationally and internationally with professionals across visual, media, performative and sonic mediums.
As an extremely proud member of the Maskekosihk people (Enoch Cree Nation), Joshua is the founder and president of Lightning Mill Inc (An indigenous Film production house). He's the producer of "Hey Viktor" the company's flagship venture and feature length film currently in its final stages of post production. Lightning Mill is Currently Developing 2 Series for TV "I'll Just F****in Kill you" and "Smudge the Blades." He is the Festival Director for the Rubaboo Arts festival, Edmonton's premiere Indigenous multidisciplinary gathering. Joshua is also an associate producer for Full Circle: First Nations Performance in Vancouver.
Contemporary Indigenous art and collaboration are at the core of the process regarding Joshua's practice. He has the logical understanding of performative and technical mediums that accent the traditional elements of Indigenous culture, to add precision in their respective values to the creative process of modern Indigenous works.
Marie Barlizo taking a seed of an idea into a new play. Pamilya explores an intergenerational biracial family (French and Filipino), middle-age life with kids and caregiving for older parents. Pamilya investigates the complexities of this second coming of age with humour.
Marie Leofeli Romero Barlizo (she/her) is a Montreal-based Filipino-Chinese playwright, screenwriter, producer, dramaturg, and mom of two. She holds an MFA in Creative Writing (TV) from UBC and is the first BIPOC to graduate from the National Theatre School's Playwriting Program. She is an instructor and playwriting mentor at NTS, recipient of the 2022 Bernard Amyot Teaching Award at National Theatre School and winner of the 2022 Jovette Marchessault award for Playwriting. Select Credits: residency at Royal Manitoba Theatre Centre to develop The Betrayal Project (2022-23); residency at Boca del Lupo (2022); Lucky production at 2022 rEvolver Festival, play development of The Healing, Centaur Theatre and Segal Centre to develop The Healing (2022-23); Truth or Dare, commission from Boca del Lupo's Plays2Perform@Home in partnership with Centaur Theatre (2021); The Little Mighty Superhero, Geordie Theatre 20-21 2Play Tour; The Healing, Centaur Theatre's 2021 Catalyst Readings; play development of Lucky, Theatre Passe Muraille (21-22); play Betrayal shortlisted for Persephone Theatre's IBPOC Play Commission (2021).
The SLaM Program is supported by: The RBC Foundation, Canada Council for the Arts, BC Arts Council, City of Vancouver Office of Cultural Affairs, BC Gaming and Granville Island CMHC.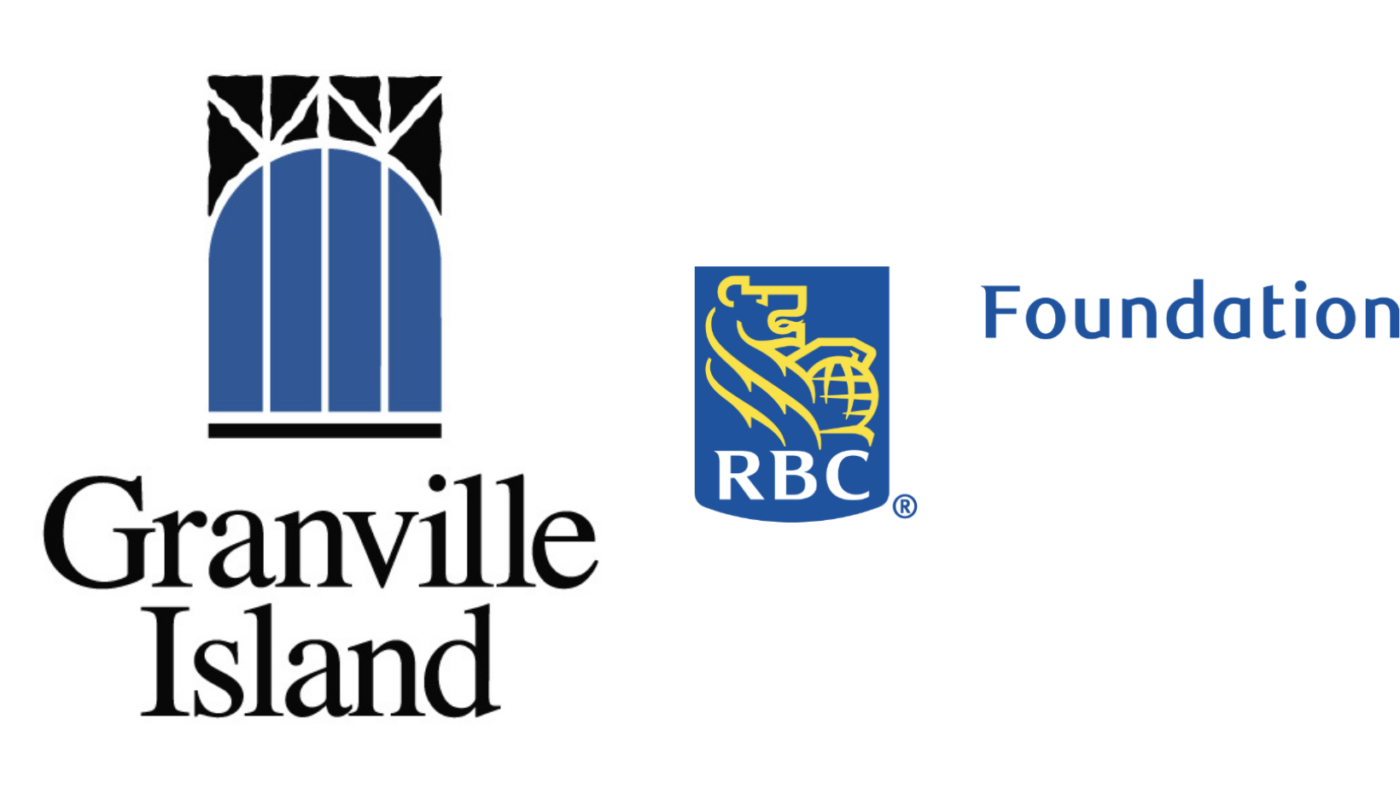 And a special thank you to David McCann for generously matching, dollar for dollar, each donation made this year as well as to our Board Chair, Carmen Stossel, who double matched every donation made by the Boca Del Lupo board.
The SLaM Program would not be possible without the support of our generous individual donors. 100% of the funds raised go to support independent artists in our community to create new work. We give a heartfelt thank you to the following donors who made this year's campaign a success:
Kris Klaasen, John Irving, Valerie Sussman, Tricia Wunsch, Baylee Landymore, Aleksandra Kalinic, Linda Rae, Julie Crichton, Jaclyn Scheffelmaier, Elaine Kennedy, Lori Gray, Gloria Miele, Ferne Ross, Jon Steeves, Anonymous, Che Mainwaring, David Peever, Christine Till, Anne Montgomery, Amèlie Houdet, Eric Pattison, John Shapcott, Helen Zenith, Barry and Barb Litchinsky, Susan Graham, Marta Laven, Judy Rhodes, Margaret Gallagher, Kenji Maeda, Debra Cox, Ken Draayer, Jane Heyman, Sang Mah, Richard Choi, Holman Wang, Katherine Bruno, Brian Edwards, Carmen Stossel, Craig and Zoë Laven, Philip Adams, Yun-Jou Chang, Jocelyn Pitsch, George Heyman, Rob Adams, Bobbi Kozinuk, Michelle Dodge, Daniela Gielnik, Megan Gray, Marwan Taliani, Scott Elliott, Julie Dodge, Jamala MacRae, Miriam Aiken, David McCann, Julia & Mac Dodge, Jung Ja Kim