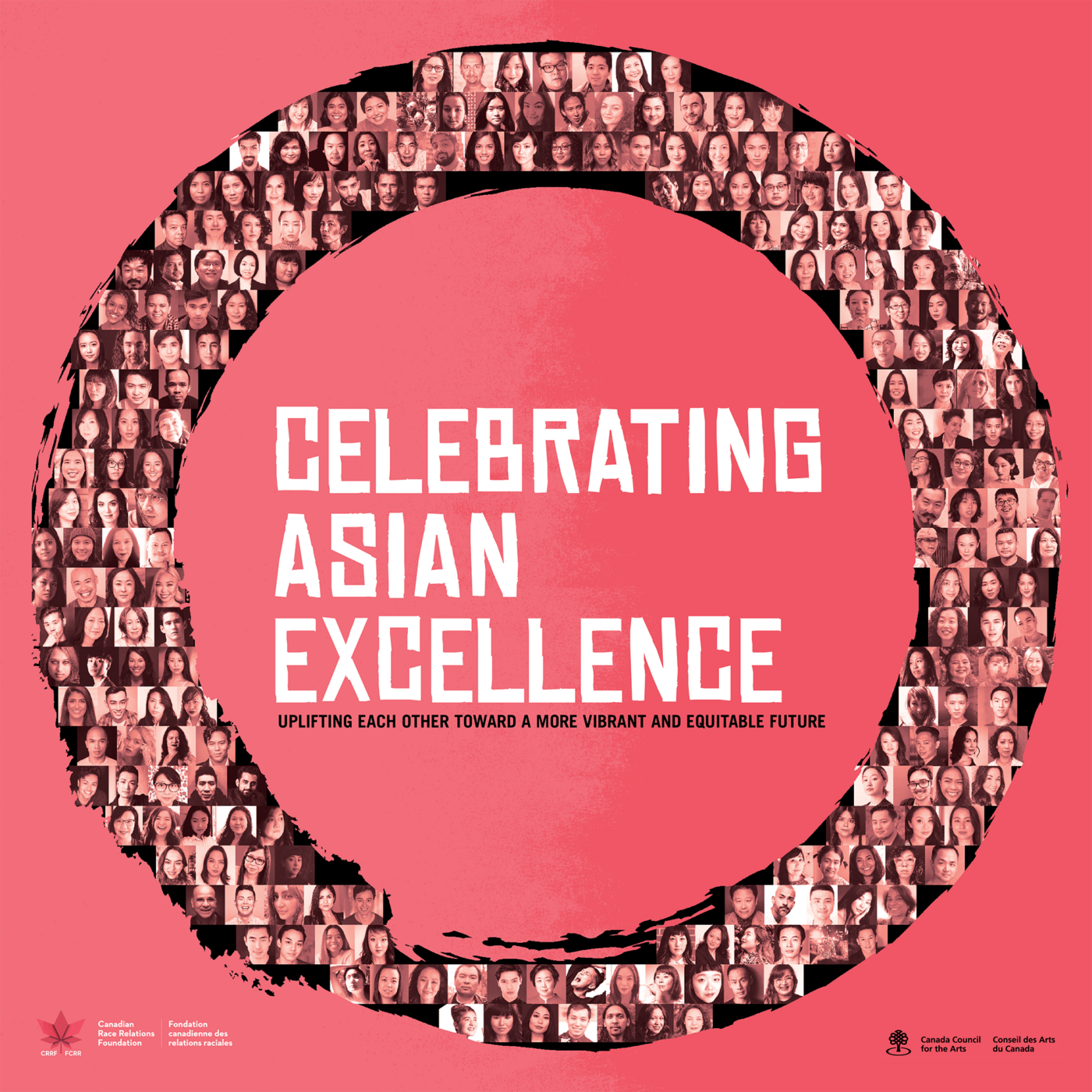 Celebrating Asian Excellence
Uplifting each other toward a more vibrant and equitable future.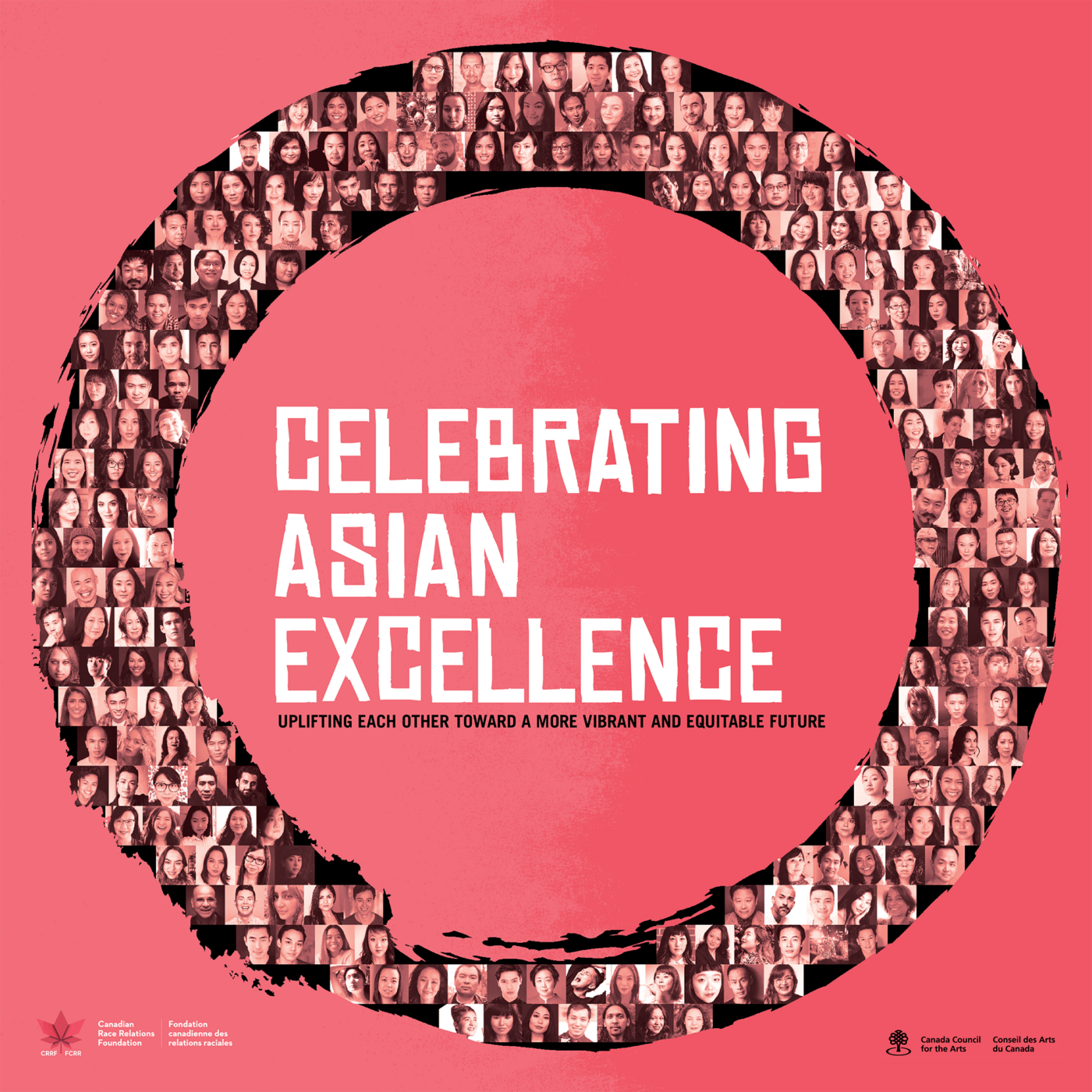 This campaign was born out of the Stop Asian Hate campaign, stewarded by Boca del Lupo in May 2021.
Participating Theatre Companies
The following companies have the Celebrating Asian Excellence campaign displayed at their respective venues, showcasing artists and staff of Asian Heritage.
Boca del Lupo is also the current stewards of this initiative.
Bard on the Beach Shakespeare Festival
Prairie Theatre Exchange
Lisa Li (she/her) is a theatre producer and arts manager with progressive 9+ years of experience managing and overseeing a breadth of programming, budgets, and contracts/agreements. Work includes small and large-scale theatrical productions, musicals, concerts, festivals (dance, music, improvisation, literary, family/TYA), tours, cabaret, site specific work, and digital creations.
From 2016-2020, she was a Producer with Soulpepper Theatre Company where she was responsible for all Soulpepper-produced mainstage productions and live concert programming. She produced 65+ theatrical productions and concerts for Soulpepper in her four-year period. She was the producer on "Soulpepper on 42nd Street", Soulpepper's month-long residency at New York City's Signature Theatre, July 2017. Programming for "Soulpepper on 42nd Street" featured 7 full-scale productions, 2 presentations, 3 concerts, a daily cabaret, and various ancillary events.
Occasionally, Lisa Li works in Toronto's independent theatre community as a producer and consultant. Lisa Li has worked with the Shaw Festival, Ontario Arts Council, Toronto Arts Council, and is on the faculty of Sheridan College.
Lisa Li is the board Chair of ARC and sits on the board of the Professional Association of Canadian Theatres as the Chair of the Labour Relations Committee.
Lisa Li
Managing Director
Prismatic Festival
Raeesa Lalani
Artistic Director
Kelly Li
Managing Producer
Theatre Calgary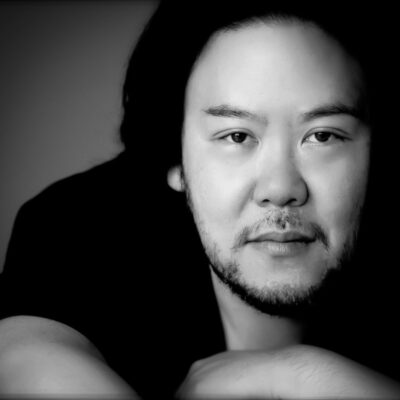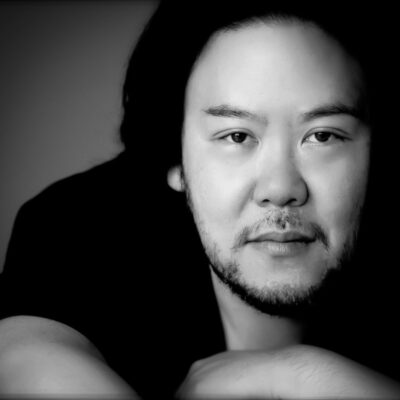 Born and raised in Toronto, Arima thrived in the New York theatre scene for over 20 years. In 2015, he became the first Asian Canadian to direct a musical on Broadway when Allegiance opened at the Longacre Theatre, starring George Takei and Lea Salonga. Arima was also nominated for a 2004 Olivier Award for his direction of the West End premiere of the musical, Ragtime. Some additional directing credits include productions of Altar Boyz (Off-Broadway) Carrie (MCC Theater, Off-Broadway), The Tin Pan Alley Rag (Roundabout Theatre Company), Red Velvet (The Old Globe Theatre), Poster Boy (Williamstown Theatre Festival), Jacques Brel Is Alive and Well and Living In Paris (Stratford Festival), Abyssinia (Goodspeed Musicals), A Tribute to Sondheim (Boston Pops), and Billy Elliot: The Musical, The Secret Garden, Mary and Max – A New Musical, and A Christmas Carol (2019), and the online filmed version of A Christmas Carol (2020) (Theatre Calgary). Arima has shepherded new musical development at the New York Musical Theatre Festival, National Alliance for Musical Theatre, Toronto Fringe Festival, New York Stage and Film, and the SPF Festival. He is a graduate of York University, where he was the recipient of the Dean's Prize for Excellence in Creative Work. He also serves as Artistic Advisor for Broadway Dreams, and is an Adjunct Professor at UC Davis.
Stafford Arima
Artistic Director
Raised in Alberta, and graduate of Mount Allison University, Ms. Choldin joined Theatre Calgary following her role as Managing Director of Pig Iron Theatre Company in Philadelphia, PA, a position she held for the last six seasons.
Prior to Pig Iron, Maya has built a long resume in the arts that includes General Manager of the Pennsylvania Ballet, along with roles at George Mason University's Hylton Performing Arts Center, the Kimmel Center, and management of productions and projects at Opera Philadelphia, the Mann Center, and FringeArts.

In addition to her arts experience, Maya has served on the boards of a variety of community organizations, and in the fall of 2019, she attended ArtEquity Facilitator Training to deepen her commitment to equity, diversity, and inclusion in the arts.
Maya Choldin
Executive Director
Theatre NorthWest
Marnie Hamagami is the Artistic Producer of Theatre NorthWest, she grew up in Cranbrook BC, and went to university in Lethbridge and Tuebingen Germany. Hamagami has been with Theatre NorthWest for seven seasons, and adores community she lives in. Hamagami has one ten year old son, who is her greatest joy and love.
Marnie Hamagami
Artistic Producer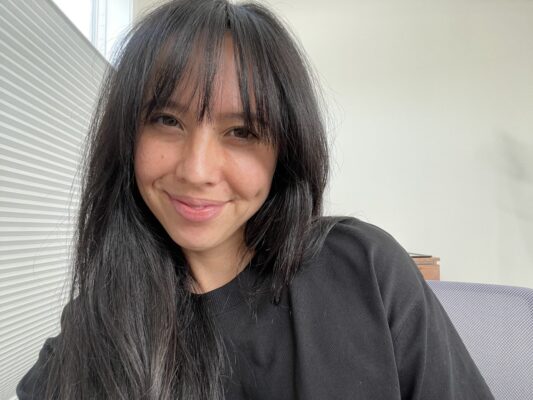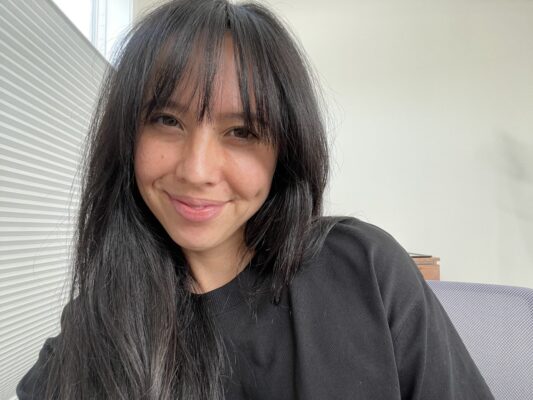 Digital Marketing Coordinator
Jo-anne Hamagami is the Digital Marketing Coordinator for Theatre NorthWest, and been with the theatre for 2 years. She has had a long time fascination with typefaces and print which eventually led her to graphic design. Jo-anne was born in Cranbrook BC, moved to Victoria BC for most of her twenties, and most recently lives in Calgary, AB with her partner.
Jo-anne Hamagami
Digital Marketing Coordinator
Theatre Passe Muraille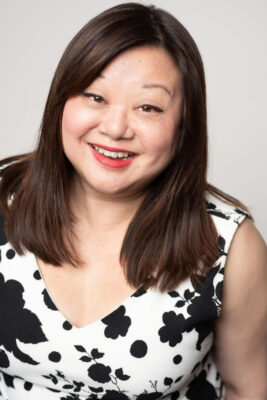 Marjorie Chan
Artistic Director
Assistant Production Manager
Nicole Eun-Ju Bell is a Toronto based, mixed-race, multidisciplinary artist with a passion for performance and technology.  She is fascinated with cyborgs and Loïe Fuller.  Among other things, she is a projection designer, stage manager, and XR artist. She's worked with companies like Theatre Passe Muraille, CanadianStage, Factory Theatre, Single Thread Theatre Company, Safeword, The A.M.Y Project, b current, and Hart House Theatre.  Her work has been presented at international and local festivals including: Prague Quadrennial, Next Stage, Summerworks and Toronto Fringe.  She is also a member of the curation team for Canada's Student Exhibit for Prague Quadrennial 2023.
Nicole Eun-Ju Bell
Assistant Production Manager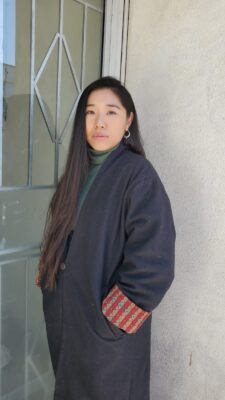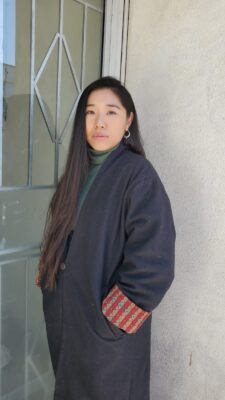 Producer, Digital Creators Lab
རིན་ཆེན་སྒྲོལ་མ་|Rinchen Dolma was born in Kathmandu, Nepal and is currently based in Tkarón:to.  She is a community arts practitioner, performer, an emerging playwright and director. She is also the founder and Artistic Director of MADE IN EXILE, an arts-based initiative that engages young Tibetan creatives in exploring their complex identities through contemporary mediums of storytelling in exile. Rinchen joined Factory Theatre's Foundry 2021 program, a new work creation group, where she has been developing a full-length play piece called "July 1st." She is the recipient of the Cahoots Theatre 2021 Promising Pen Prize and the 2020 Metcalf Foundation Performing Arts Program in Artistic Direction under Marjorie Chan. Currently, Rinchen is Producing the Digital Creators Lab at Theatre Passe Muraille. 
རིན་ཆེན་སྒྲོལ་མ་|Rinchen Dolma
Producer, Digital Creators Lab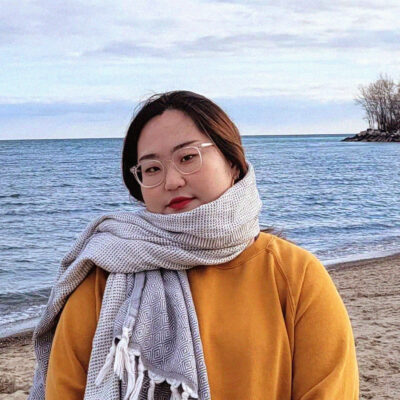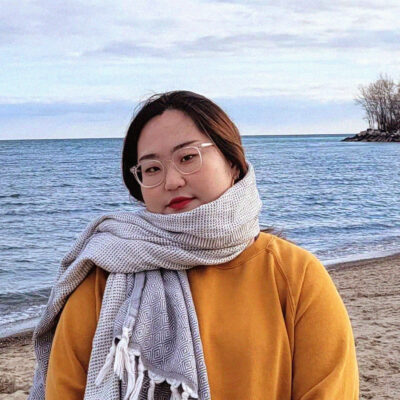 Marketing & Communications Manager
Emily is an interdisciplinary artist/artsworker based in Toronto with a focus on the nonprofit arts sector, currently working as Marketing and Communications Manager at Theatre Passe Muraille. Keen interest in cultural policy, equitable producing, community centric fundraising, and inclusive marketing practices in the arts. Details/contact at emilyjung.com.
Emily Jung
Marketing & Communications Manager
April Siutong Leung 梁筱彤 (she/her) is an award-winning playwright, performance creator, and actor who grew up in Hong Kong and is now based in Tkarón:to (Toronto). She has worked with many celebrated theatre companies across Turtle Island including Blyth Festival, Factory Theatre, Vancouver Asian Canadian Theatre, and fu-GEN Theatre. Her current projects examine emergent and surveillant technologies, cultural identity and relationships (per)formed and sustained through food, and the complex social hybridity of the Chinese-Canadian community. April is a recipient of the Ellen Ross Stuart Award and a finalist for Touchstone Theatre's Flying Start. She is currently the Artistic Associate at Theatre Passe Muraille. www.aprilleung.com
April Leung
Artistic Associate
Community Engagement Co-ordinator
Angela Sun is a Mad, plus-size, first generation/ settler actor, theatre creator, producer, writer, and arts administrator of East Asian descent. Her multidisciplinary, multilingual artistic practice focuses on cultural dissonance and mental health. She is known for her advocacy for cultural diversity, size-inclusivity, and access for the invisible disability community that prioritizes lived experience over "expert" knowledge. Angela has worked with many emerging and established artistic organizations throughout her career. She is currently developing a one-person show on trauma, representation, and storytelling entitled The Glass Eye which recently received support from the Ontario Arts Council, Volcano Theatre, and Why Not Theatre as well as workshop readings as a part of Cahoots Theatre's Hot House playwriting unit and at Workman Art's Big Feels Symposium. She currently serves as the Community Engagement Coordinator at Theatre Passe Muraille.
Angela Sun
Community Engagement Co-ordinator
Support for Celebrate Asian Excellence comes from