The Performance Corporation's Emperor 101
presented as part of LP360
This ground-breaking production by The Performance Corporation is at the cutting edge of an emerging crossover between theatre and Virtual Reality.
Emperor 101 immerses you in an alternate world that reflects the mind and motivations of a conspiracy theorist. In a time when the very notion of truth or facts is called into question, the innovative use of VR reflects the multiple realities or bubbles we live in. The piece riffs on influences from ancient mythology to Alice in Wonderland, and asks if rejection of the mainstream is a product of fear, or the ultimate act of self-empowerment in a complex world.
Audiences are led through a series of interactive environments in Virtual Reality and experience live interaction with performer avatars. Explore the inner life of a high profile conspiracy theorist as she struggles with a personal tragedy that has turned the world upside down.
Audience members are given headsets at The Fishbowl, and will watch the performers from Ireland in Virtual Reality.
Performances ran Thursday April 20 to Sunday April 23.
April 20: 2 pm, 3 pm
April 21: 2 pm, 3 pm
April 22: 11 am, 12 pm, 1 pm, 2 pm, 3 pm
April 23: 11 am, 12 pm, 1 pm, 2 pm, 3 pm
Beta test for at home audience!
We added two performances for enthusiasts who have their own Quest 2 VR headsets at home. These two remote access only performances are available to anyone, anywhere in the world on April 20 and April 21 at 12pm PDT.
Ticket buyers for this event must verify they have access to a Quest 2 VR headset at the time of the performance and be able to sideload an app onto their device. Specific instructions and support will be provided for those who purchase tickets.
Find the event labeled Emperor 101 REMOTE.
Tickets available for $15 – $25 each.
Created by: Leon Butler, Jo Mangan, Peter Power, and Tom Swift
Produced by The Performance Corporation
Cast: Caitríona Ní Mhurchú and Karl Quinn
Directed by Jo Mangan
Script by Tom Swift
Design by Leon Butler and Peter Power
VR Producer: Camille Donegan
Immersive Media Studio: RETinIZE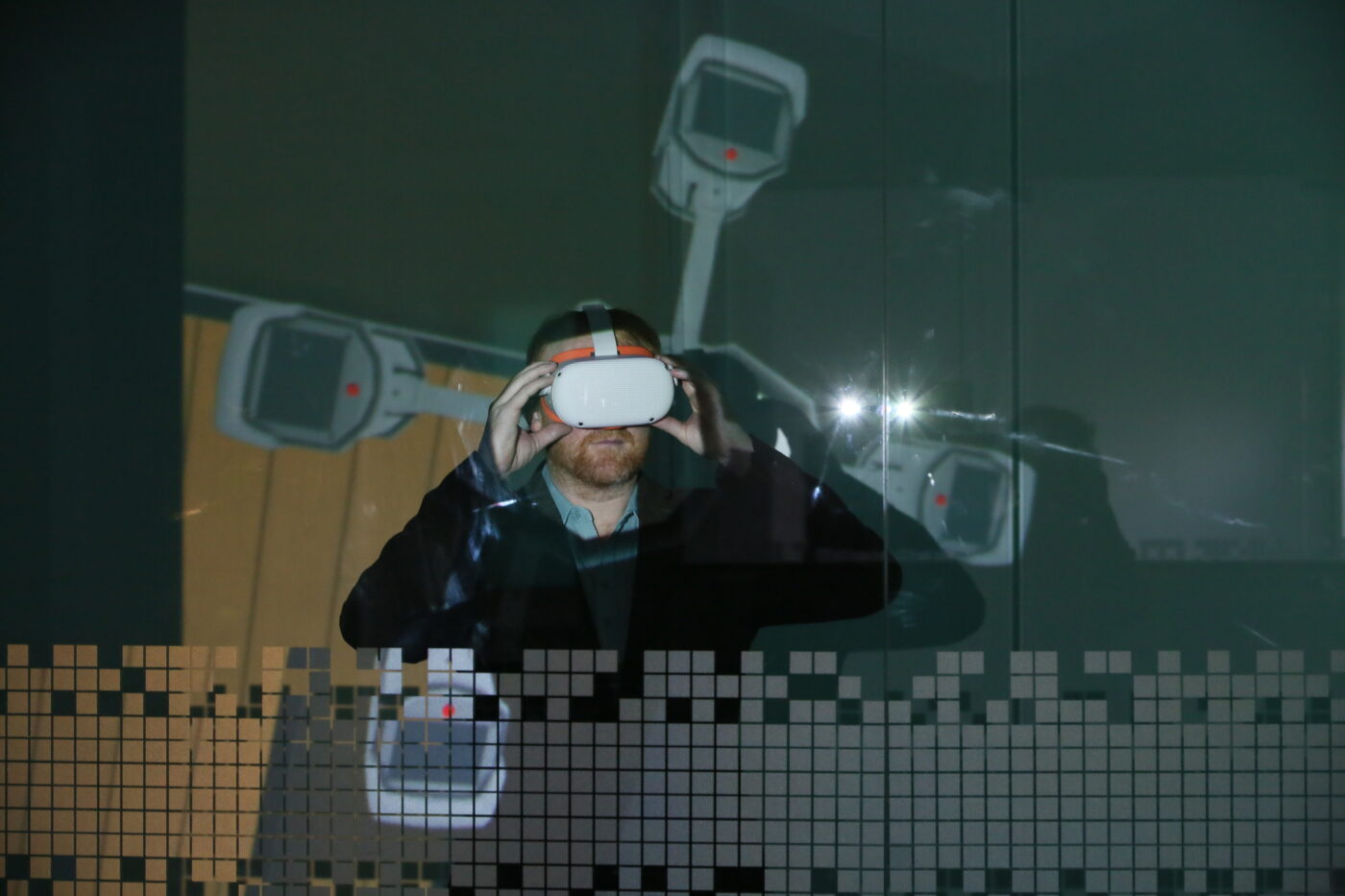 The Performance Corporation is one of the first theatre companies in the world to design and build a bespoke virtual world in which to stage a VR play. In this VR space, live actors and audiences inhabit avatars that allow them to interact and speak to each other in real time. Speaking about the production, Artistic Director of The Performance Corporation Jo Mangan said: "It's incredibly exciting to be part of what we believe is a new departure for theatre. I believe that by creating this kind of live and interactive performance in a specially designed virtual space, we can open up a huge array of new possibilities."
Award-winning theatrical innovators The Performance Corporation premiered Emperor 101 at the Dublin Theatre Festival in October 2021, which was a sell-out success. The production uses new Virtual Reality technology to explore the explosion of online conspiracy theories, and the parallel rise of far-right extremism.
The Performance Corporation believes projects like Emperor 101 have huge potential, and plan to further develop this digital genre in the future. The company envisages future live VR productions that would be available to audience members in locations across the world simultaneously, opening up new theatrical frontiers.
Sponsors and Supporters