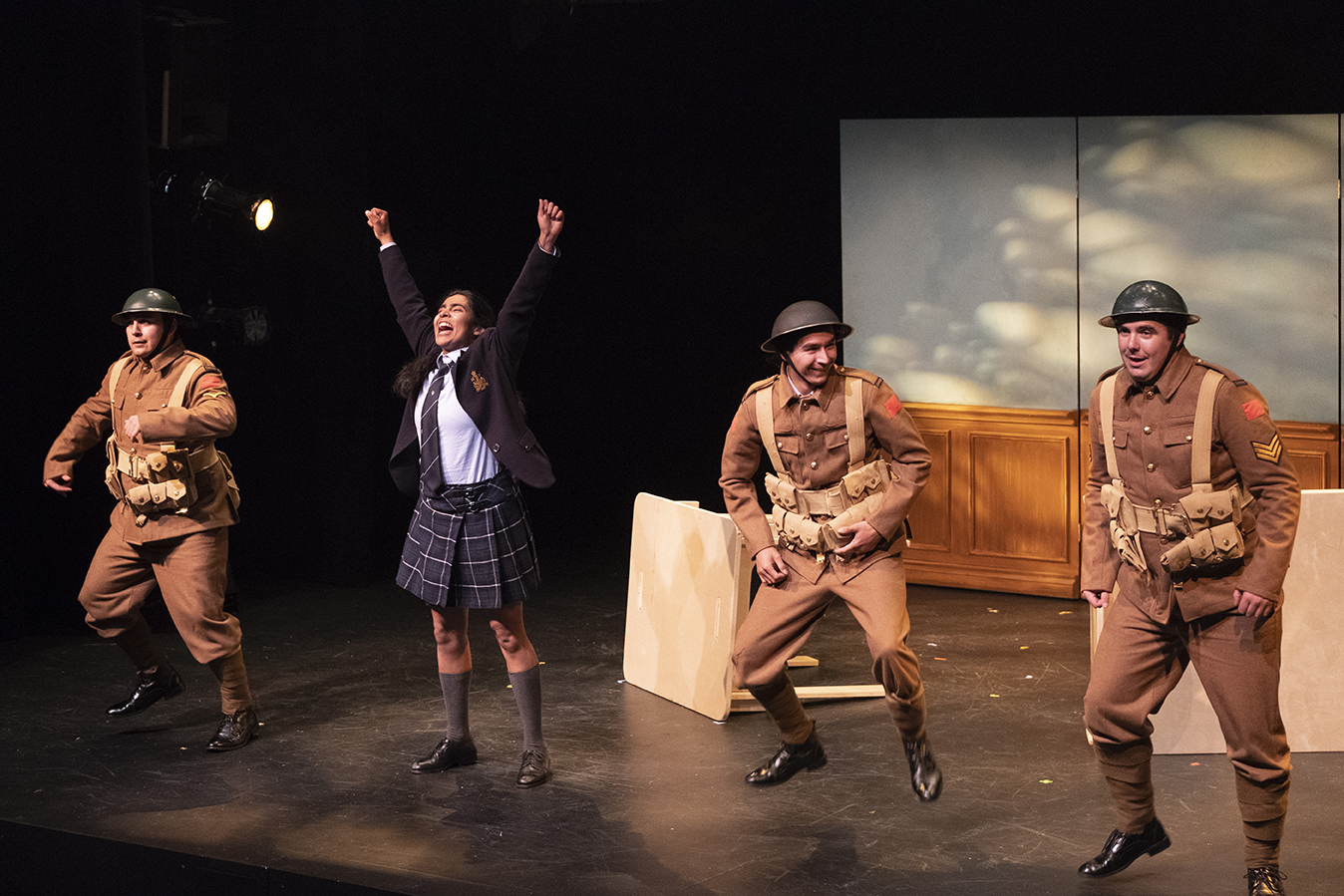 Peg is struggling for survival at her boarding school. Three girls take aim at Peg and make her life utterly miserable. When her beloved Grandmother dies she just wants to disappear. But then an unexpected gift arrives, Peg finds three cast iron Canadian soldiers. In despair, she throws them against the floor. How can they help her? They are so small and the girls' shadow is so big. But, miraculously the toys come to life as Indigenous Snipers from WWI, just in time to wage an epic battle against the three girls.
Creative Team
Marie Clements (Metis/Dene) is an award-winning writer, director and producer who has carved her brand of independent story-making in a variety of mediums including film, t.v., radio, and live performance. Her fifteen plays including Copper Thunderbird, Burning Vision, and The Edward Curtis Project have been presented on some of the most prestigious stages for Canadian and international work including the Festival de Theatre des Ameriques/Montreal, The National Arts Centre, The Magnetic North Festival/Ottawa and The Push International Performance Festival/Vancouver. Her work has garnered numerous awards and publications including the 2004 Canada- Japan Literary Award, and two prestigious Governor General's Literary Award nominations for Burning Vision and Copper Thunderbird. Of late, her libretto Missing produced by City Opera and Pacific Opera premiered in Vancouver and Victoria winter 2017, and her play The Unnatural and Accidental Women, will open the first Indigenous theatre season at the National Arts Centre this September 2019. red diva projects artistic directed by Marie Clements is inspired to create stories that encircle artists of all disciplines who are willing to answer the call for social change through artistic expression.
Marie Clements
Playwright
Sherry J. Yoon, Artistic Director of Boca del Lupo, is a theatre creator and director with a passion for creating new performances through collaborative pursuits. With Boca del Lupo, Sherry has co-created more than 35 productions, including: Fall Away Home, an intergenerational site-specific production in the forest of Stanley Park; Photog, a large-scale show that toured across Canada and was created with interviews from prominent conflict photographers; and You Are It, as part of the Silver commissions from the Arts Club Theatre that investigates the complex dynamics between female friendships. During Sherry's tenure, the company has received numerous awards, including the Rio Tinto Alcan Performing Arts Award, and Jessie Awards for Outstanding Production, Design, Actor, Ensemble, as well as the Critic's Choice Innovation Award. Her productions have toured festivals and venues across Canada, Europe and Mexico. She co-created an online exhibition of Expedition, an iterative collaboration between Boca del Lupo and the Performance Corporation, and working on Net Zero, an interactive theatre installation about climate change that involves the audience charging a battery with a stationary bicycle. She is also a freelance director who has worked at the Richmond Gateway Theatre, Bard on the Beach, the Vancouver International Children's Festival and at the National Arts Centre in Ottawa Canada.
Sherry J Yoon
Director
Stage Manager Yvonne Yip Cultural Consultant Gavan Cheema Performers Adele Noronha, Balinder Johal, Raes Calvert, Deneh'Cho Thompson, Taran Kootenhayoo Singer Neetaja Aptikar Composer/Cellist Cris Derksen Set & Props Shizuka Kai Costume Mara Gottler Video Jay Dodge Sound Carey Dodge Lighting Jeff Harrison Dramaturge Paula Danckert Movement Jonathan Hawley Purvis Executive Producer Katharine Carol Associate Producer Michelle Kneale