Pochsy at the Airport Hotel
Pochsy at the Airport Hotel returns to LivePerformance360 in June 2023, playing along side Reconciling by Yvette Nolan. Buy a ticket to one performance and see both films.
Showtimes
Wednesday June 21: 5:30pm | 7pm
Thursday June 22: 5:30pm | 7pm
Friday June 23: 5:30pm | 7pm | 8:30pm
Saturday June 24: 2pm | 3:30pm | 5:30pm | 7pm | 8:30pm
Ticket price: $25 per show, $15 for students
Location: The Fishbowl on Granville Island
#100 – 1398 Cartwright St, Vancouver
Pochsy at the Airport Hotel created by Karen Hines premiered March 30 to April 3, 2022 along side The Magic Hour 360 produced by Electric Company Theatre and The Only Animal.
Pochsy at the Airport Hotel
Written and performed by Karen Hines
Directed by Sandi Somers
Sound Design and Edited by Carey Dodge
Forget about Trip Advisor, trash your Trivago, and dive into this enchanted, uncharted Hospitality Zone in 360 degrees. In an airport hotel on the shores of the River Styx, Pochsy mourns the loss of her job at Mercury Packers, navigates her struggles being "vegan-fluid," and tries to conceal an unnatural pre-occupation with bubble wrap.
Should she check her messages for the fiftieth time? Or solve the perennial question: why does a tiny can of Pringles cost $11.95? Come sit with Pochsy on the edge of her king-sized bed, on the precipice of existence, in this meditation on globalization and the future of the human soul. (Pochsy is an anagram for "Psycho" and rhymes with "The Pox.")
Artist Talks
Host Sherry J Yoon in conversation with Pochsy at the Airport Hotel creative team Karen Hines (writer and performer) and Sandi Somers (director).
This video was recorded via Zoom at The Fishbowl on Granville Island on Friday, April 1st, 2022.
Creative Team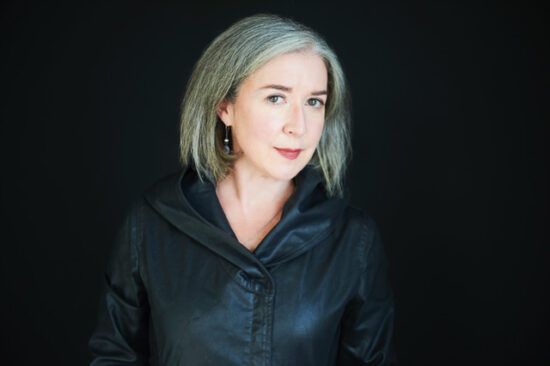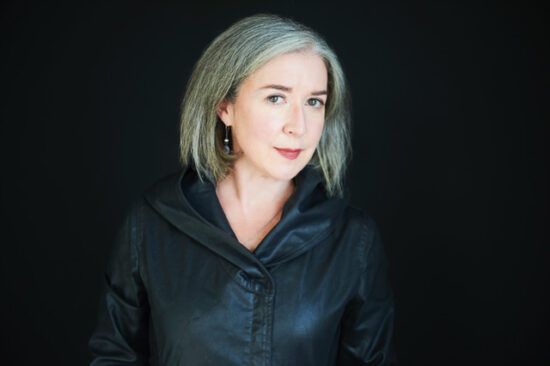 Karen Hines' multi-prize-winning plays, productions, performances combine such disparate elements as magical realism, pink-brand feminism and environmental disarray. Karen is a two- time finalist for the Governor General's Award for Drama and a 2020 finalist for the Siminovitch Prize. Her solo plays and 'little' films featuring her character 'Pochsy' have traveled the globe. Hines has directed and collaborated with fellow artists at venues such as One Yellow Rabbit, Joe's Pub (Public Theatre), Astor Place Off-Broadway, Tarragon, Videofag, Canadian Stage, Soulpepper, NAC, and has created original works for Boca del Lupo. Her All the Little Animals I Have Eaten was translated for Jamais Lu 2022 (Mishka Lavigne), and the real estate horror Crawlspace continues to micro-theatres across Canada in French and English. Hines is a Gemini and Dora Award-winning performer. Her solo Crawlspace is being adapted as screenplay, and is now a CBC podcast (PlayMe; Radio One). Her newest show Pochsy IV premiered in January 2023 (High Performance Rodeo) and will soon tour to multiple cities.
Karen Hines
Writer & Performer
Sandi is a set, lighting, costume and projection designer for theatre and an award winning filmmaker.  She's designed for companies such as One Yellow Rabbit, ATP, The Alberta Ballet, Lunchbox, and Making Treaty 7. Her previous works with Karen Hines include All the Little Animals I have Eaten and Crawl Space. Sandi's award winning films have screened internationally and she was honoured with Calgary's Doug and Lois Mitchell Outstanding Calgary Artist Award.  Sandi created and currently oversees the organization HERLAND dedicated to the advancement of women in screen based industries.  
Sandi Somers
Director
Technology Director of Boca Del Lupo
Carey is a board member of the Canadian Electroacoustic Community. Carey is a multidisciplinary artist and technologist whose work focuses on sonic arts, interactivity, installations, sound design and performance. He studied Electroacoustics at Concordia University and received a Masters at the Sonic Arts Research Centre in Belfast. He has collaborated with hundreds of artists in the creation of works mostly in Vancouver but also Montreal, Toronto, the USA, UK & Ireland.
Through his work with Boca del Lupo in the unique role as a full-time technology director for a theatre company he as worked with the core creative team to continually expand, challenge and grow what is possible and what are impactful uses of technology for expressing artistic vision and connection with each other.
Carey Dodge
Sound & Video editor
Pochsy at the Airport Hotel's 2023 presentation is supported by