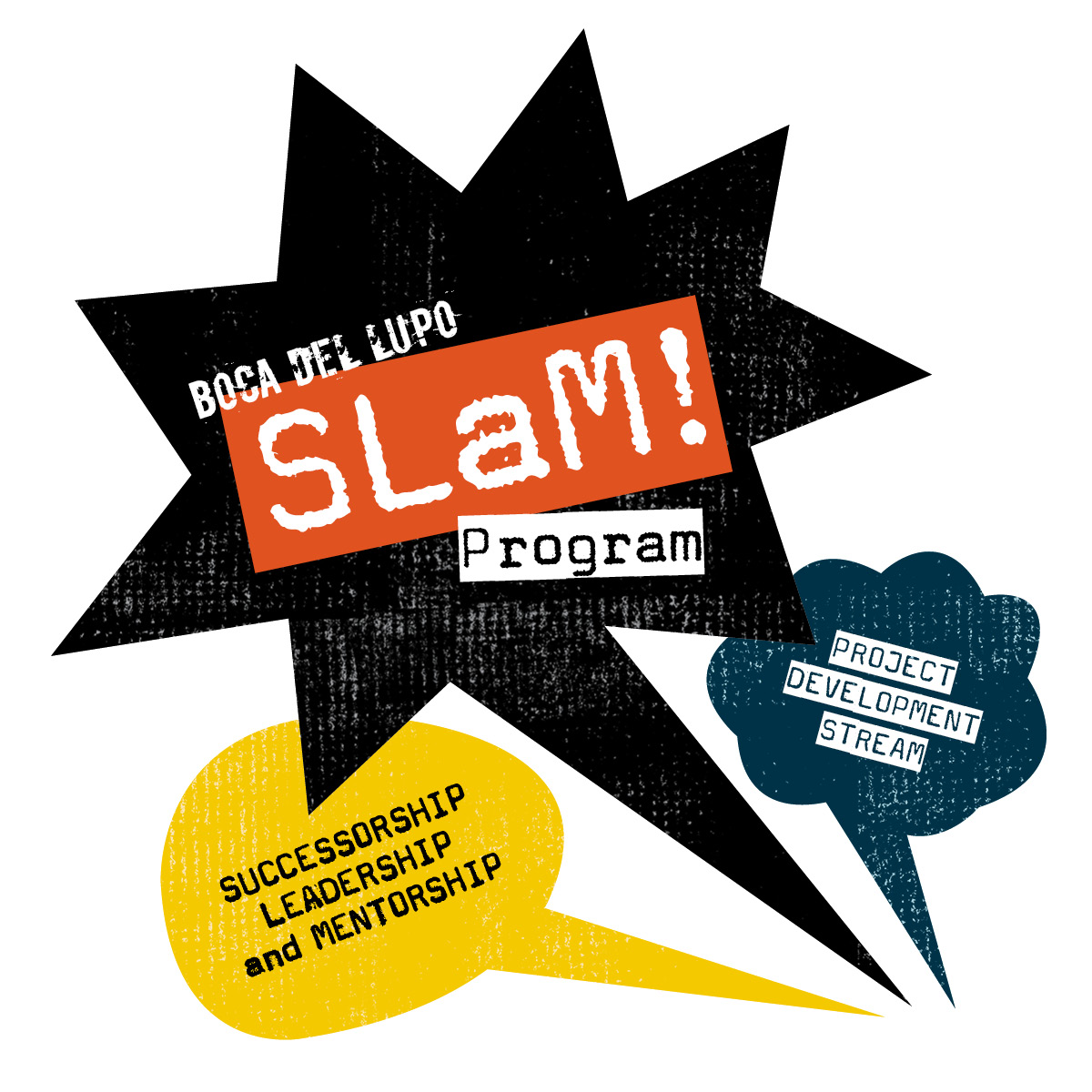 SLaM
Donate Now to support the 2023 SLaM Program!
To find out when the next round of applications will be for Boca del Lupo's SLaM (Succesor, Leadership, and Mentorship) Program, please sign up for our newsletter!
In celebrating our 25th anniversary, we are prioritizing applications that share our long-held values of innovation, diversity and immersive practice. Risky, irreverent, humorous, current – bring your ideas, experience and passion. This year we are interested in but not limited to supporting projects that:
Center the artist in immersive technologies that explore the intersection of live performance that reflect the human experience.
Are led by Indigenous, Black, and people of colour, especially IBPOC experiences and/or ideas led by IBPOC artists including those with a desire to be the next generation of leaders.
The program is open to established and emerging artists who are interested in Development or Mentorship.
Development
Supporting theatrical projects in various stages of development, ranging from a seed of an idea to works that are in the final stages before a premiere. Be clear about what stage your project is in and what aspect of the work you would like to work on. Express what you wish to achieve during your time in the SLaM Program.
Eg but not limited to: research, travel cost, subsistence, or workshop.
Boca del Lupo is able to provide access to specialized equipment, however, in-kind access to space is not available at this time.
Mentorship
For artists to develop their artistic practice and connect with a seasoned artist in their field. Having an existing relationship with your mentor/collaborator makes for a stronger application but is not necessary. Be clear about your focus, goals and why you want to work with the mentor. Roles can include but not limited to directors, designers, and dramaturgs.
Eg but not limited to: shadowing and assisting opportunities, skill building, one-on-one connection
Leadership & Producing – for artists who have an interest in learning about leadership positions within the arts. This includes, but is not limited to, producers and artistic directors. Having an existing relationship with your mentor makes for a stronger application but is not necessary. Be clear about your focus, goals and why you want to be mentored.
Eg but not limit to: skill building, career growth, career pivot
Stagecraft – Funded by the Zev Laven Memorial Fund – for promising individuals in stagecraft who are looking for mentorship opportunities. This program is for emerging designers, technicians, stage managers, props and other stagecraft positions who need more hands-on experience and mentorship from established stage professionals.
How to Apply:
Please submit by Monday, April 4th, 2022 at 9:30 am to Sherry J Yoon at associate@bocadellupo.com.
Include in your submission:
Letter of interest – tell us why you are interested in SLaM (250 words max).
Project/Activity description – describe your project or activity and articulate your goals, include what stage of development you are in if applicable (250 words max).
Resume – individual or all members if submitting as a group.
Support material (highly recommended but not required) – anything to tell us more about your project or give us a glimpse into your practice.
eg. play excerpts (5 pages max), video submission (2 minutes max), design portfolio (5 images max), etc.
Applicants are encouraged to be honest and succinct about your curiosity and goals for the SLaM Program (point form is acceptable).
*Note that all activity for projects need to be completed by October 31st, 2022.
If you have any questions, please contact Nathania Bernabe or Carmela Sison at info@bocadellupo.com.
Applicants being considered for the next stage will be contacted directly by the Boca del Lupo team with further questions and/or may be asked for more support material.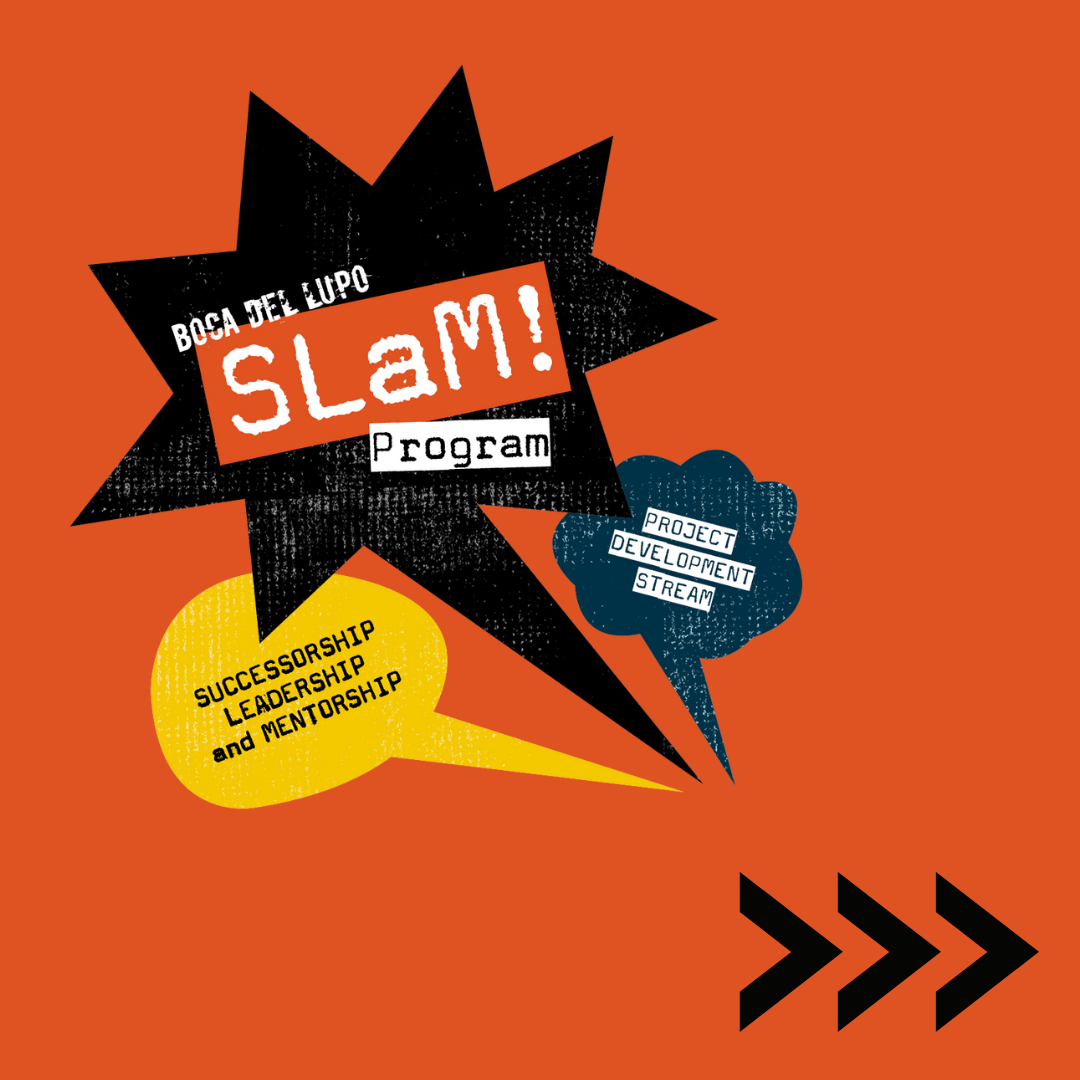 The SLaM Program is supported by: The RBC Foundation, Canada Council for the Arts, BC Arts Council, City of Vancouver Office of Cultural Affairs, BC Gaming and Granville Island CMHC.
And a special thank you to David McCann for generously matching, dollar for dollar, each donation made this year as well as to our Board Chair, Carmen Stossel, who double matched every donation made by the Boca Del Lupo board.
The SLaM Program would not be possible without the support of our generous individual donors. 100% of the funds raised go to support independent artists in our community to create new work. We give a heartfelt thank you to the following donors who made this year's campaign a success:
Kris Klaasen, John Irving, Valerie Sussman, Tricia Wunsch, Baylee Landymore, Aleksandra Kalinic, Linda Rae, Julie Crichton, Jaclyn Scheffelmaier, Elaine Kennedy, Lori Gray, Gloria Miele, Ferne Ross, Jon Steeves, Anonymous, Che Mainwaring, David Peever, Christine Till, Anne Montgomery, Amèlie Houdet, Eric Pattison, John Shapcott, Helen Zenith, Barry and Barb Litchinsky, Susan Graham, Marta Laven, Judy Rhodes, Margaret Gallagher, Kenji Maeda, Debra Cox, Ken Draayer, Jane Heyman, Sang Mah, Richard Choi, Holman Wang, Katherine Bruno, Brian Edwards, Carmen Stossel, Craig and Zoë Laven, Philip Adams, Yun-Jou Chang, Jocelyn Pitsch, George Heyman, Rob Adams, Bobbi Kozinuk, Michelle Dodge, Daniela Gielnik, Megan Gray, Marwan Taliani, Scott Elliott, Julie Dodge, Jamala MacRae, Miriam Aiken, David McCann, Julia & Mac Dodge, Jung Ja Kim