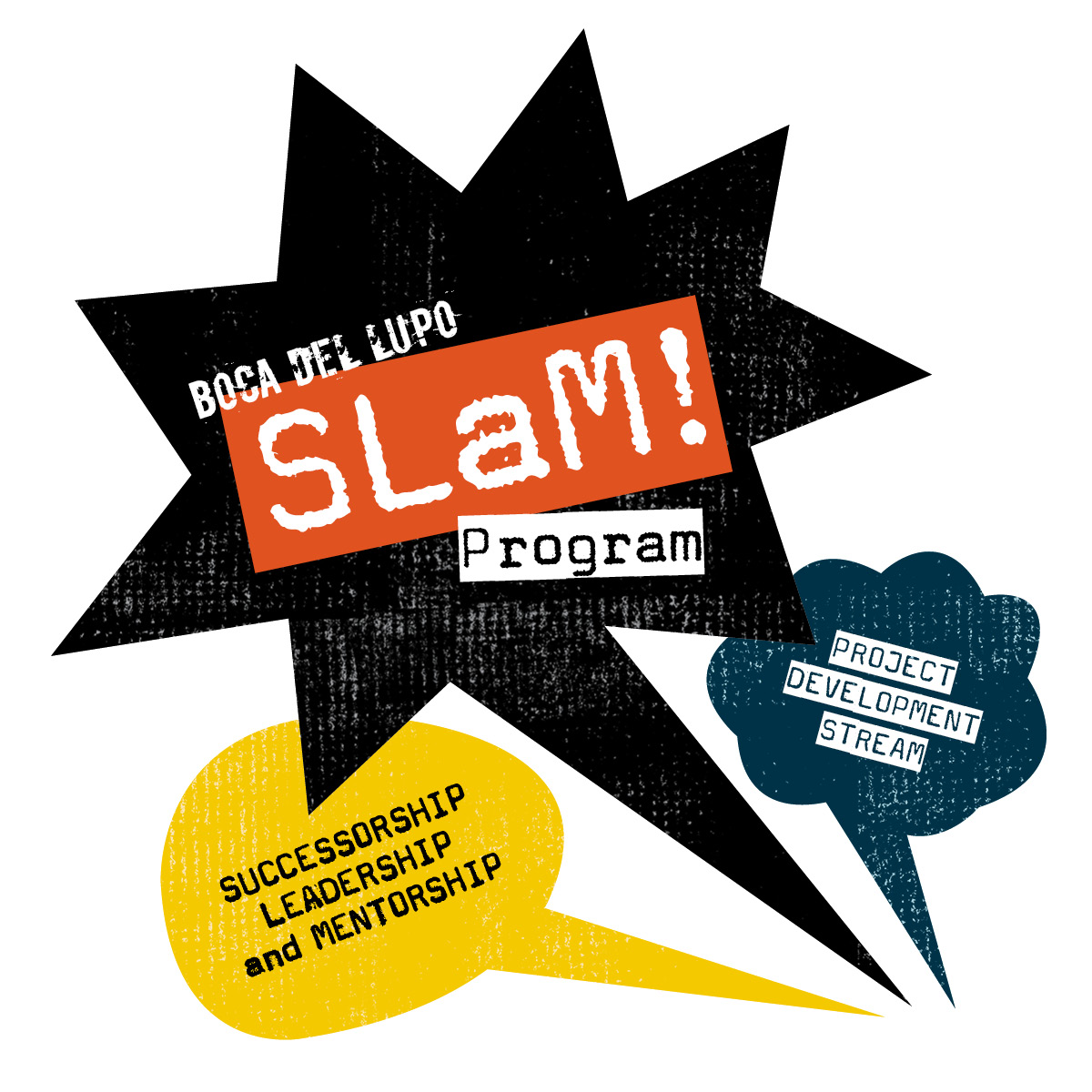 SLaM
2023 SLaM Participants have been announced
Boca del Lupo's SLaM (Succesor, Leadership, and Mentorship) Program supports mentorship and early project development!
The SLaM Program is supported by: The RBC Foundation, Canada Council for the Arts, BC Arts Council, City of Vancouver Office of Cultural Affairs, BC Gaming and Granville Island CMHC.
And a special thank you to David McCann for generously matching, dollar for dollar, each donation made this year as well as to our Board Chair, Carmen Stossel, who double matched every donation made by the Boca Del Lupo board.
The SLaM Program would not be possible without the support of our generous individual donors. 100% of the funds raised go to support independent artists in our community to create new work. We give a heartfelt thank you to the following donors who made this year's campaign a success:
Kris Klaasen, John Irving, Valerie Sussman, Tricia Wunsch, Baylee Landymore, Aleksandra Kalinic, Linda Rae, Julie Crichton, Jaclyn Scheffelmaier, Elaine Kennedy, Lori Gray, Gloria Miele, Ferne Ross, Jon Steeves, Anonymous, Che Mainwaring, David Peever, Christine Till, Anne Montgomery, Amèlie Houdet, Eric Pattison, John Shapcott, Helen Zenith, Barry and Barb Litchinsky, Susan Graham, Marta Laven, Judy Rhodes, Margaret Gallagher, Kenji Maeda, Debra Cox, Ken Draayer, Jane Heyman, Sang Mah, Richard Choi, Holman Wang, Katherine Bruno, Brian Edwards, Carmen Stossel, Craig and Zoë Laven, Philip Adams, Yun-Jou Chang, Jocelyn Pitsch, George Heyman, Rob Adams, Bobbi Kozinuk, Michelle Dodge, Daniela Gielnik, Megan Gray, Marwan Taliani, Scott Elliott, Julie Dodge, Jamala MacRae, Miriam Aiken, David McCann, Julia & Mac Dodge, Jung Ja Kim
Boca del Lupo has a long history of supporting the professional development of artists and the creative development of projects. It started in our earliest days at Source Studio which offered affordable space to creators of devised theatre and dance; it continued with the creation of development centre PL1422 and more formal programs like the 3.7%, MediaLab and the Space Program; and it lives on now with the SLaM Program which brings together the best of our experience in mentorship, peer learning and project development support.
Most of the projects supported by our programs over the years have gone on to be funded, produced and several have toured regionally, nationally and internationally. Many of the participating interns and mentees are now leaders themselves. As an artist led company, we know how much sweat and love goes into the act of making. The SLaM Program is our way of supporting other folks who share our compulsion to create.
Collaboration is the core tenet of our creativity. Working across cultures and disciplines, our productions are energized by the collision and confluence of difference. International collaboration is one of the lines that can be drawn in the interweaving trajectories of our work. We have often found that collaborating across borders can help us better understand ourselves.
This year we are prioritizing applications that share our long-held values of innovation, diversity and rigour. And as the world begins to open up again, we are interested in but not limited to supporting projects that:
Are led by Indigenous, Black, and People of Colour
Explore the intersections of technology and live performance
Feature national or international collaborations
There are two main streams in the SLaM Program, the Mentorship stream and the Project Development stream. The program is open to both emerging artists and established artists working on emergent ideas and/or new areas of practice.
The Mentorship stream supports artists in developing their artistic practice by connecting with a seasoned artist, practitioner or expert in a specific field. Having an existing relationship with your mentor/expert makes for a stronger application but is not necessary, we can find you someone.
The Project Development stream supports projects at their earliest stages of development. If you have a seed of an idea, a collaborator you have always wanted to work with or a heart project you have always wanted to do, this is the place.
How to Apply:
Please address your Letter of Interest to Sherry J Yoon, Artistic Director
and submit your completed submission by email no later than Friday, March 31st, 2023 at midnight to Associate Producer, Matthew Rhodes: producer@bocadellupo.com.
Include in your submission:
Letter of interest – tell us why you are interested in SLaM (250 words max).
Project Description – describe your project or activity and articulate your goals (250 words max).
Resume – individual or all members if submitting as a group.
Support material (recommended but not required) – give us a glimpse into your project or practice.
Examples: play excerpts (5 pages max), video submission (2 minutes max), design portfolio (5 images max), etc. Give us a shout if you need help transferring larger video or image files.
Applicants are encouraged to be honest and succinct about your curiosity and goals. No need for fancy language unless that's your thing. Point form is fine or if you'd rather, you could send short videos that speak to the four points above.
Questions? Send us a note and one of the team will get back to you asap: info@bocadellupo.com.
Applicants being considered for the next stage will be contacted directly by the Boca del Lupo team with further questions and/or may be asked for more support material.
*Note that all activity for projects need to be completed by October 31st, 2023.
SLaM 2022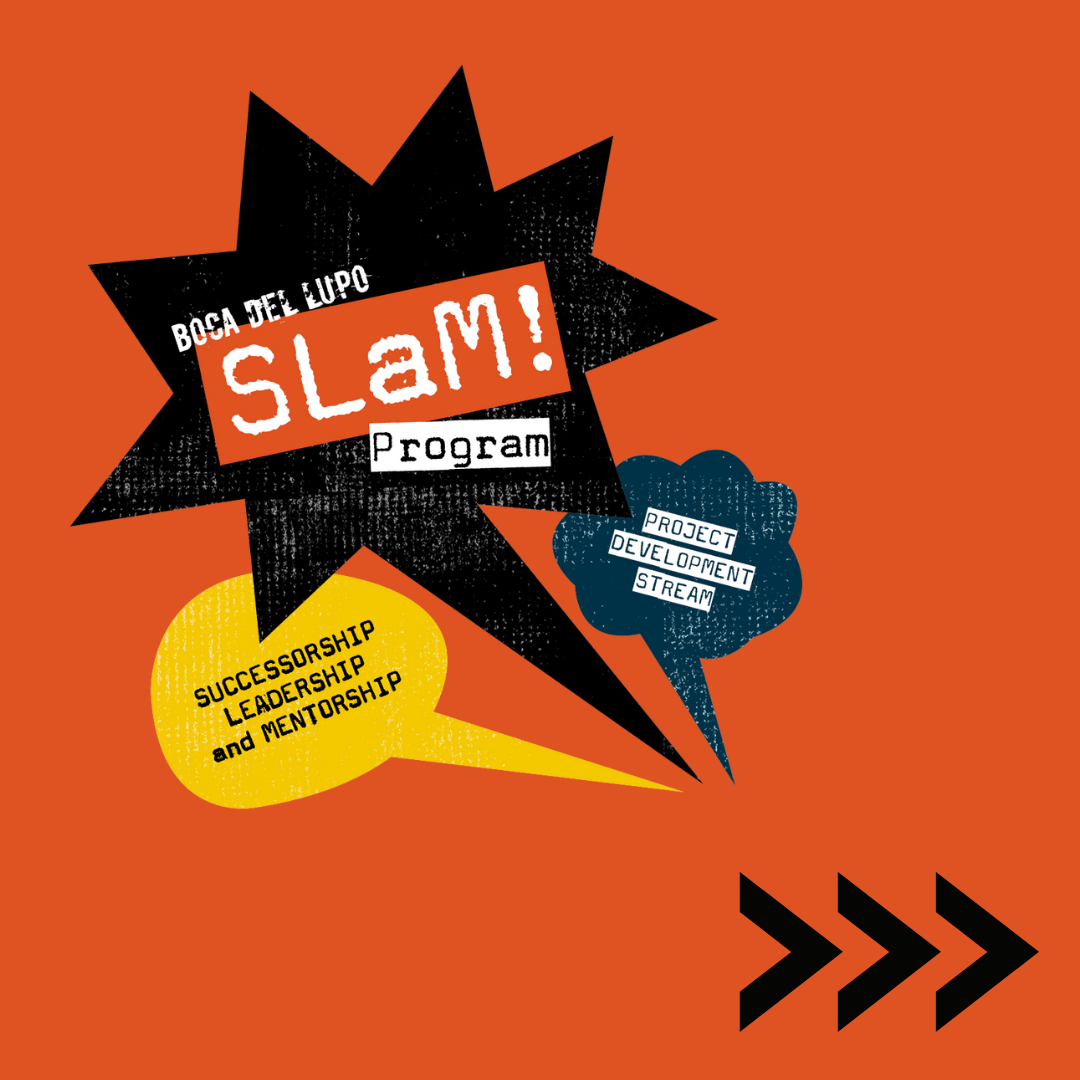 SLaM 2021